Virtual Visit with Santa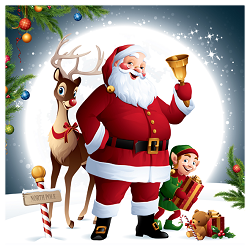 Back by popular demand, we are holding our second annual virtual visit with Santa Claus. Skip the lines this year at the mall, and have your kids meet with Santa via Zoom. Younger kids are already comfortable with this platform, and you have the opportunity to make the meeting magical. When signing up, you chose an available time slot, and enter personal information about your child in the booking page. On the day of the meeting, Santa will know your kids by name, favorite things, pets, siblings, and wanted toys. This is game changing personalization that cannot be matched by mall Santa's.
Now while we cannot offer photos, we do offer a new unique way to capture the visit to be shared with friends and family. Within one week or less after the visit, you will receive a personalized video recording of the interaction for you to download and share. Imagine the smiles of your family and friends when they see this video, after having limited interaction with your child due to social distancing protocols over the past two years.
Time slots are offered in 15 minute increments, with visiting time not to exceed 10 minutes. This allows Santa a chance to take breaks in-between all visits. Cost per visit is $30, and includes editing of video prior to sending it to your registered email address.