What We Support
Lake Oswego Public Library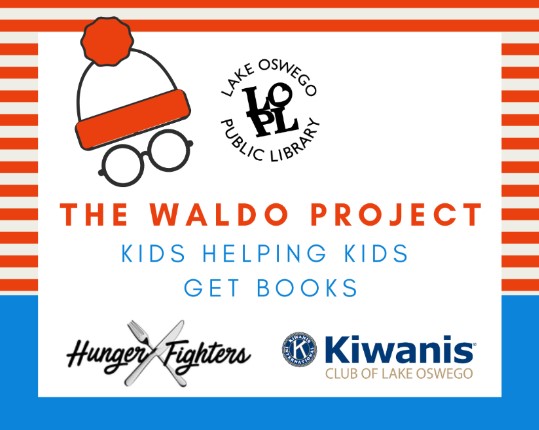 "The Waldo Project" is a collaboration between the Lake Oswego Public Library, the Kiwanis Club of Lake Oswego, and Hunger Fighters Oregon. For years, children have jumped at the chance to find a 5-inch-tall Waldo in the Lake Oswego Children's Library. Now, we are turning that excitement toward an altruistic project that delivers free, new books to the homes of families in our community.
Research shows that children have much to gain, even beyond literacy, from having plenty of books at home, and that children who grow up surrounded by books have greater success when entering Kindergarten. The Kiwanis Club has generously donated funds to purchase new, high quality picture books and early readers, and the library is matching their donation with grant funding from the State Library. Hunger Fighters Oregon, our local food pantry, will distribute the books to their clients as a means of spreading the joy of reading.
Now, when a child finds Waldo in his hiding spot, they go straight to a vintage gumball machine filled with wooden tokens. After turning the crank and retrieving a token, they drop it into a jar which designates how many books will be distributed. The importance of having books at home, and of making a difference in your community, are important conversations our youth librarians are having with our patrons. Not surprisingly, our kids are super excited to be searching for Waldo again.
River Grove Elementary School
River Grove Elementary (Title I designated school site), is one of our local partners within our community of Lake Oswego. The U.S. Department of Education describes the Title I program as: "schools in which children from low-income families make up at least 40 percent of enrollment are eligible to use Title I funds to operate school wide programs that serve all children in the school in order to raise the achievement of the lowest-achieving students". Visit https://www.losdschools.org/rg for more information!
Oak Creek Elementary School

Our Club supports literacy and student character programs at River Grove Elementary  and Oak Creek Elementary in Lake Oswego. Our club's mission is to help connect students with books since studies have proven that reading serves as a basic learning block for learning. To join us in our mission, reach out to one of our Board members by going to the Contact Us tab and completing the information.
Lake Oswego High School Key Club
Key Club International is the oldest and largest service program, established in 1925, for high school students that teaches leadership through service to others. We sponsor the Lake Oswego High School Key Club. Key Club is a part of the Kiwanis International family of "Service Leadership Programs" that encourages inclusivity and leadership through serving others. To learn more about our Key Club program, contact Joyce Handa, Kiwanis Key Club Advisor, through the "Contact Us" page.
Kiwanis Doernbecher Children's Cancer Program
True to the heart of every Kiwanian is the Kiwanis Doernbecher Children's Cancer Program (KDCCP), which offers two Fellowships annually to physicians involved in the fields of pediatric oncology and hematology to find a cure for childhood cancer. Throughout the year, our club fundraises and/or receives personal donations from members to support this important cause. Visit kiwanisdoernbecher.org or contact John Brookens, KDCCP President at [email protected] for more information.

Mt. Hood Kiwanis Camp
Mt. Hood Kiwanis Camp (MHKC) offers incredible outdoor recreational programming for campers with developmental, intellectual, and physical disabilities at its fully accessible 22-acre campsite in the Mt. Hood National Forest. Visit mhkc.org or for additional information.